Marianne Solivan – Ramler Concert
Wednesday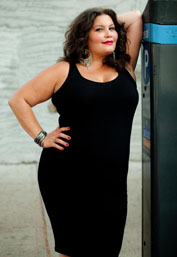 July 24, 2019

6:30 p.m.
Marianne Solivan has made a name for herself as a hard-swinging, passionate vocalist with a commanding stage presence who can captivate audiences with exuberance and wit. She has performed and recorded with artists such as Christian McBride, Peter Bernstein, Jeremy Pelt, Bruce Barth, and Gregory Hutchinson.
In 2015, after years of duo, trio, and quartet work, Solivan jumped into the big-band arena, creating a band that combined high energy, swing, and a unique repertoire. The result is a band with a varied repertoire, anchored by Solivan's surefooted voice and confident leadership.
The band will perform original music from Solivan's most recent CD, Spark, as well as offbeat songs from the Great American Songbook and a few Latin songs.
The Friends of Ramler Park is a member supported, non-profit, all-volunteer organization whose mission is to maintain a beautiful and safe public park by caring for the plantings, trees and physical structures, and providing free programs including a summer music series and cultural events. Visit the park any day, from dawn 'til dusk.